Play Hole.io Game On iOS Devices!
Are you ready to play Hole.io on iOS devices? Hole.io is a famous multiplayer game from the io games series, and now you can check out Hole.io app on your mobile device. Hole.io mobile app game is also very popular in the world. Players can download Hole.io multiplayer for free and install it on their own devices to experience fantastic challenge, which is as fun as the PC version.
Welcome to Hole.io iOS!
You will step into a huge arena where you compete against plenty of online opponents from across the world. That's what you must do in Hole.io mobile online. Hole.io iOS app is developed and published by Voodoo. This time, the publisher didn't release the game based on physical gameplay like Axe Champ, Helix Jump, or Perfect Tower for iOS. The whole development team made a decision on bringing a brutal battle between deadly holes controlled by real human players.
You spawn in a huge map and start controlling your hole around the arena trying to consume a lot of edible objects that are scattered around on the city. These objects can be innocent humans, buildings, fences, post offices, street lights, boxes, etc. Your hunger has no limit, therefore, you can always fill your stomach with those edible objects to make the size of your hole larger than ever. Once you have expanded the size, you will be able to destroy everything that lies in your pathway.
Hole.io gameplay is kind of similar to Slither.io or Wormax.io for iOS. You will encounter plenty of opponent holes controlled by other human players on your way. Make sure you will absorb the ones that are smaller than you while keeping your hole away from the bigger ones, otherwise, you will get eaten. As soon as you become the biggest hole in the arena, you will directly reach the top spot on the leaderboard to become the most feared hole!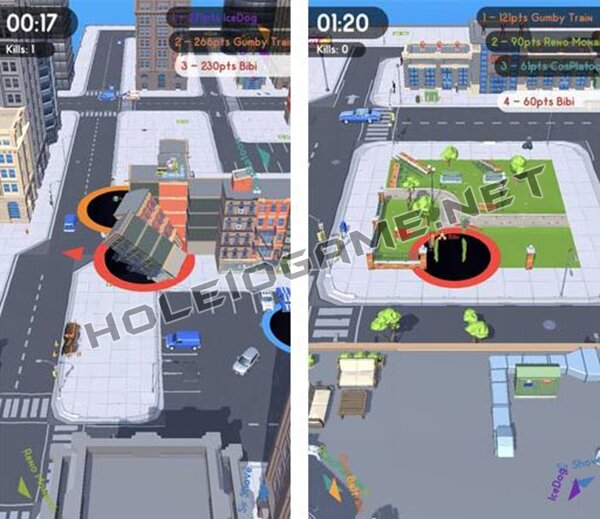 Hole.io for iOS drops you in a new open world in which you will compete against plenty of enemies from across the globe. Make sure that you have everything ready for this brutal arena, especially your excellent strategies so you can eat up all objects and kill your opponents for a chance of winning.
Hole.io multiplayer allows you to play and compete against your friends
Do you want to fight with your friends? If yes, please follow three simple steps as mentioned below to step into the arena with your real friends and show them that you are the best hole in the city:
Step 1: Open the Local Multiplayer menu on the right of the screen and create a room.
Step 2: Invite your friends to come and play with you via Bluetooth.
Step 3: Enjoy the battle with your friends!
Popular Search:
holeio game download
You may also like:
Leave Your Comment