5 Top Hole.io Tips and Tricks
Tips and tricks to conquer Hole.io
We have the best Hole.io tips and tricks here. Everything necessary is available to be applied. While black holes that players control in Hole.io game are inspired by dangerous and mysterious elements which are being studied by scientists, you can manage them and use these items as an effective tool to occupy the top spot.
Similar to the original, they can wipe out all objects on their way. Specifically, Hole.io map is regarded as an ideal location to do that. Your playfield is situated in a metropolis where full of skyscrapers, humans, and vehicles. It is a crowded city in which you can surf around every street and swallow whatever you are allowed. Indeed, Hole.io by Voodoo has already generated a great place to offer a large number of resources that are essential for your growth. Aside from being gettable on the PC, it is also fun to enjoy on mobile devices.
Hop into Hole.io Multiplayer you will have the chance to play against countless competitors throughout the real world. By eating people, cars, buildings, and smaller rivals, you will enlarge and climb up to higher spots of the ranking.
In case you are looking for guides to take over that position, you can follow our tutorials below.
The most excellent 5 instructions for users on Hole.io map
There are a few foremost strategies that you are highly recommended to accomplish when you engage in Hole.io unblocked with online opponents worldwide.
Roam around sidewalks & parking zones at the start of the race
Before being the leader, you are advised to collect the highest mass as fast as you can. It is exciting to travel across the region near the point you appear. It will provide small materials, for example, passengers, fire hydrants, or traffic lights. When your size is improved, your speed will change.
Next, you can head to another territory to capture means of transport. Parking lots will be the perfect target to implement your plan. They are often located at the top left of the screen and the center.
Go to the middle of Hole.io map after growing
When you reach a certain weight, you can think of leveling up quicker with bigger foods. They will boost up your points, too. Just find busy intersections and wait until you catch the prey!
Each car will give you 3 scores if you consume them. They are considered a valuable nutrition source for your advancement. However, you do not skip any opportunity to ingest the other ones on the path.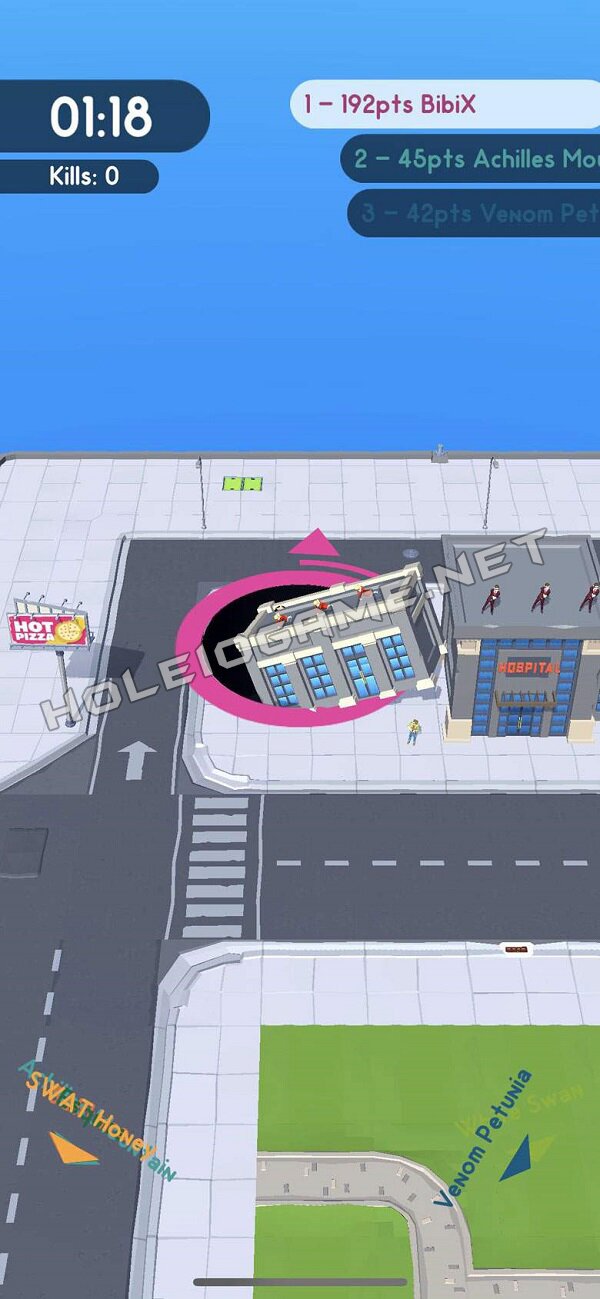 It's simple to absorb houses in Hole.io unblocked and more!
When you own a massive mouth, it's time to gulp down structures and building blocks. It's really easy to wolf down them! They will increase your ranks significantly. Remember to walk slower at that moment!
Are you willing to eliminate hostile racers on Hole.io map?
After the initial stage of your favorite game is fulfilled, you can open a new page in Hole.io Tips and Tricks book. Actually, do not ignore looting somebody's progress once you join Hole.io! It is the biggest stock to overtake opposing candidates! Watch out! You can be killed by someone nearby while chasing. Attempt to evade, dodge attacks for survival!
Observe your end ranking in Hole.io multiplayer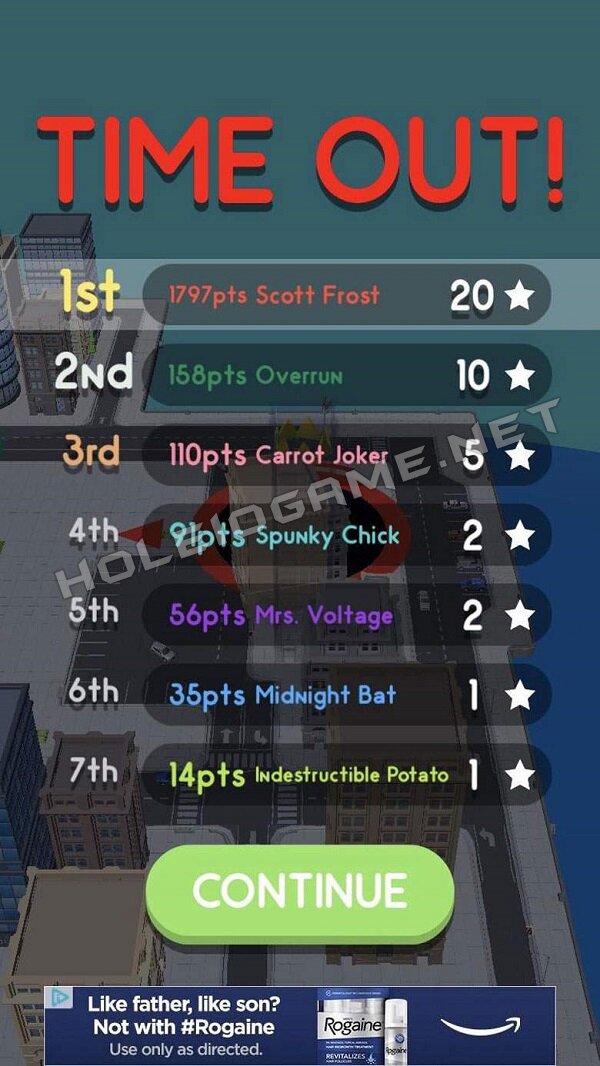 When the level is going to stop, you can keep an eye on the achievement on the leaderboard. You will unlock a star ranking every 50 points.
In addition to playing Hole.io game on smartphones with present cheats, you can check out Mope.io App to discover an amusing adventure with cute animals and dominate the evolution system with awesome beasts in various environments.
You may also like:
Leave Your Comment