GooseGame.io
Play GooseGame.io Game
As a lone goose trapped in a small pen with other geese in GooseGame.io online, you have to use your survivability and some smart strategies to outplay all enemy geese to become the best goose in the arena. GooseGame.io unblocked is similar to other io games in terms of gameplay, such as Agar.io. All the geese were locked in a pen by the farmer after his stuff go stolen by those geese.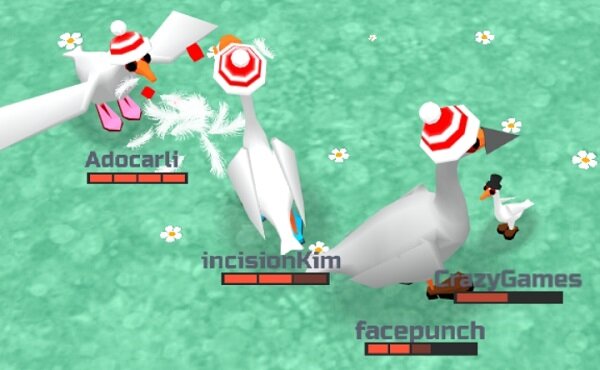 The pen is so small and doesn't have enough food for all the geese. For that reason, a battle for survival has sparked between the geese. At the start of the game, you have to make your way through the pen eating as much food as possible. Only the geese with smart strategies can manage to get enough of food to increase their size and strength. As you eat food, you will become much bigger and even stronger through over time. Watch out for other geese that are doing the same task as you. You need to outsmart them all if you want to win. You may want to eliminate the geese that are weaker than you first while trying to avoid the stronger ones. Pay attention to your surroundings and come up with some attack styles to get an upper hand on your rivals. Survive and fight your way to the top place on the leaderboard where you become the strongest goose in Goosegame.io!
How To Play GooseGame.io
Use the mouse for your goose's movement, click the left mouse button to attack enemies and hold the right mouse button to sprint.
Leave Your Comment